.
Yucca Faxoniana, "Great White Dagger"
USDA Zone 5b (- 15°F)
Everything about this yucca is oversized and dramatic. Commonly sporting multiple heads as the age, they can grow to 25 ft tall with massive trunks. Thick, rigid, dark green leaves 2 to 3 ft long radiate from full heads. Almost indestructible to handle, they transport easily and require little (if any!) additional watering. Used instead of trees in municipal landscaping in Albuquerque, El Paso, San Antonio, and other SW cities.
.

We are a proud member of TNLA.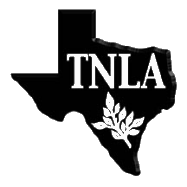 West Texas Plants is a trademark of L&L Enterprises, LLC.
Copyright L & L Enterprises 2001 - Webmaster: Kchisos Enterprises